Song 335: I Am Jehovah!
(Exodus 5:2. 2 Kings 19)

[in the upper right corner] Words and music by Harriet C. Swan [1]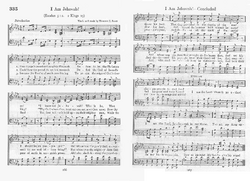 1.
Hear Egypt's proud and haughty Pharoah [2]
Refuse to let the Hebrews go!
"I know not Jehovah! Who is he,
That I should let his people go?"
But whose was the pow'r that overthrew his host
That they perished in the depths of the sea?
And whose was the Arm that wrought deliv'rance then,
And set his chosen people Israel free?

(Refrain)
I am the Lord! There is no other!
I am the Lord, Jehovah is my Name.
I've set my King upon my holy mountain,
Bow to his rule! My Son begins his reign!
2.
Hark! how the proud Assyrian monarch
Defied the God of Israel's king!
"Thy God whom thou trustest cannot save thee now;
Bow thy neck to me and tribute bring!"
But whose was the mighty Arm that slew his host,
And turned the boaster back whence he came?
And delivered his people from their dreaded foe,
And magnified his great and holy Name?

(Refrain)
3.
See now the Pow'rs of earth combining
To resist the reign of God's dear Son!
Yet fear taketh hold upon their mighty men,
While the poor of earth in anguish groan.
Ah! who shall destroy the proud oppressor's yoke,
And deliver all the meek of the earth?
And who shall establish them in righteousness,
And turn their sorrow into songs and mirth?

(Refrain)
---
↑ [Note by an Editor of this article]
Her works have been made anonymous since 1944. And many of them are sung still today. This implies that the copyright of this song has been held by Watchtower Society.
↑ As is in the original text. Pharaoh is the correct spelling.