Song 77: God's Tender Mercies
[in the upper left corner] Mary C. Jewell.
[in the upper right corner] J. G. Herr.[1]
Alt. 119, 269.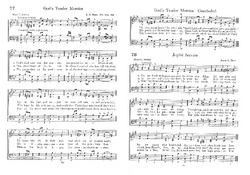 1.
God's kind and tender mercies
Are poured out over all.
Upon the just and unjust
He maketh rain to fall.
To those who sit in darkness
And shadow of death's night,
"Awake, come forth!" he crieth,
"And Christ will give you light."
2.
The great heart of Jehovah
Inclines t'ward all who fear,
Who hope in his rich mercy,
And whould thro' Christ draw near.
His infinite compassion
Sets all the pris'ners free.
We praise thy Name! for mercy,
Great God, is found in thee.
3.
We praise thee for the goodness
In all thy dealings shown,
For all the truth and promise
Thou hast to us made known.
Firm as the Rock of Ages,
Thy promise stands secure.
Thy boundless love and mercy
Forever shall endure.
---
↑ [Note by an Editor of this article]
Their works have been made anonymous since 1944. And many of them are being sung still today. This implies that the copyright of this song has been held by Watchtower Society.