Song 1: Abide, Sweet Spirit
[in the upper left corner] OLD HUNDRED. L.M.
[in the upper right corner] Alternate, 81, 87.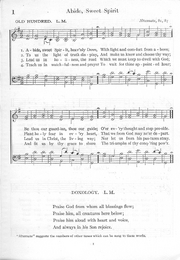 1.
Abide, sweet Spirit, heav'nly Dove,
With light and comfort from above;
Be thou our guardian, thou our guide;
O'er ev'ry thought and step preside.
2.
To us the light of truth display,
And make us know and choose thy way;
Plant holy fear in ev'ry heart,
That we from God may ne'er depart.
3.
Lead us in holiness, the road
Which we must keep to dwell with God;
Lead us in Christ, the living way;
Nor let us from his pastures stray.
4.
Teach us in watchfulness and prayer
To wait for thine appointed hour;
And fit us by thy grace to share
The triumphs of thy conq'ring pow'r.
Ad blocker interference detected!
Wikia is a free-to-use site that makes money from advertising. We have a modified experience for viewers using ad blockers

Wikia is not accessible if you've made further modifications. Remove the custom ad blocker rule(s) and the page will load as expected.